Due to" power of rice": the staple food in Japan, Japan is one of the longest life expectancies in the world!
Prevent Arteriosclerosis and Cerebral Infarction

Major cause ⇒ Accumulation of LDL cholesterol in blood. Rice Bran Oil has the greatest advantage for lowering blood cholesterol, due to "Plant Sterol".

Prevent Diabetes

Major cause ⇒ Increasing a concentration of glucose in blood by Oxidation of cells Rice Bran Oil is good for dietetic treatment of diabetic complication, thanks to "tocotrienols" and "γ-Oryzanol" which have strong anti-oxidation effect !

Antiaging and Beautiful Skin

Major cause of aging & skin deterioration ⇒ Production of Active Oxygen in skin cells and damage of collagen.
Rice Bran Oil has strong anti-oxidation effect, Moreover it has UV- absorption effect, melanin production inhibiting and promoting skin turnover due to γ-Oryzanol.

Safe and Secure

TSUNO rice bran oil ensures top quality by advanced Quality Control System; Approval of JAS standard, ISO, HALAL and KOSHER.
Also it is made from Japanese material/Lower risk of trans-fatty acid / Non GMO and Allergen free.

Good flavor and Anti-Heating

Neutral taste and good flavor are suitable for all type of dishes. Very stable for high temperature cooking and it doesn't destroy nutritional quality, decay nor interfere the taste.
RICE BRAN OIL, Rich in various nutrients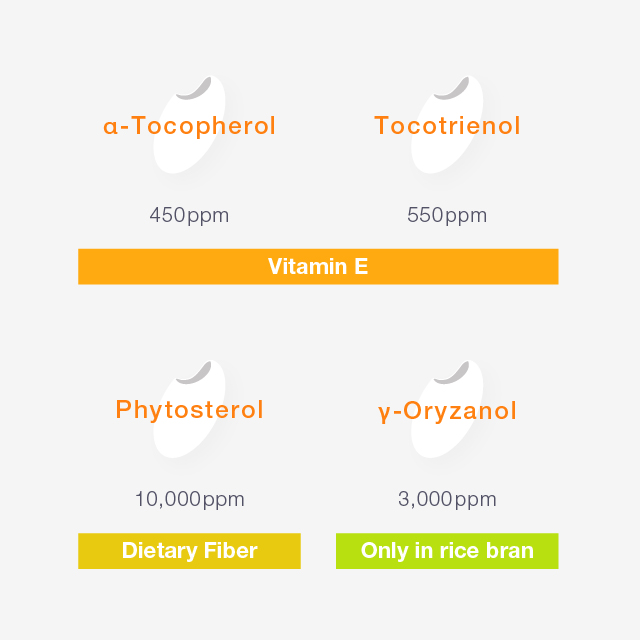 ●Vitamin E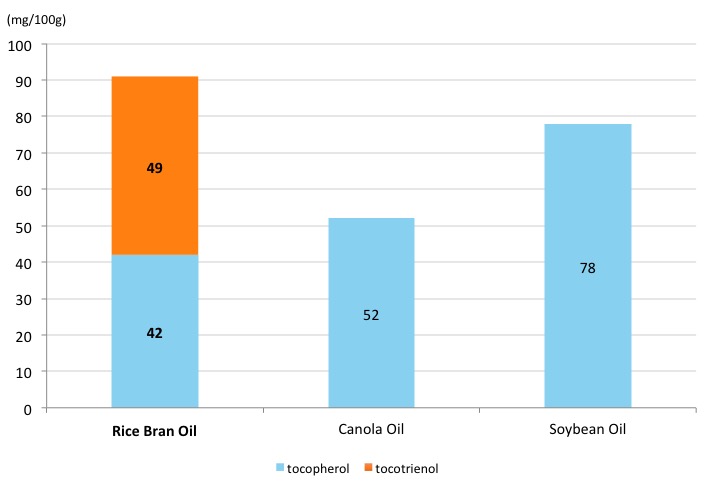 Vitamin E is the general term of tocopherols and tocotrienols. Tocotrienols so called "Super vitamin E" have anti-oxidation effect about 50 times than tocopherol. Anti-oxidation effect is essential for keeping cells healthy and prevents cancer and lifestyle-related
diseases.
●Phytosterol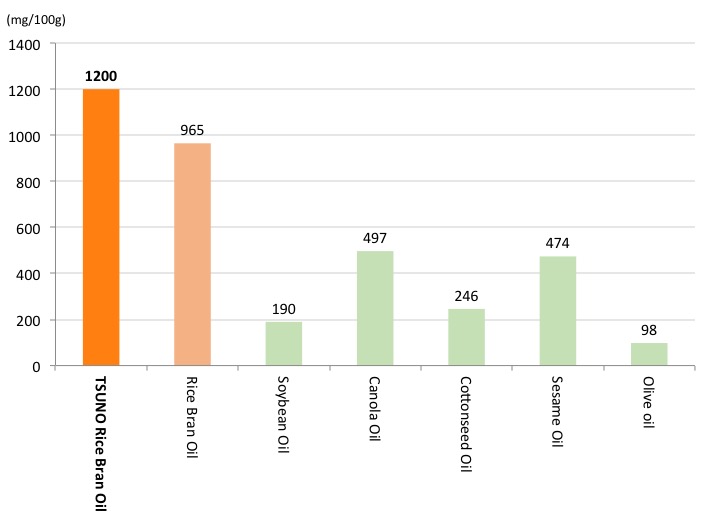 Phytosterol is called dietary fiber and has Cholesterol lowering effect. Rice Bran Oil contains highest Phytosterol among oils.
●γ-Oryzanol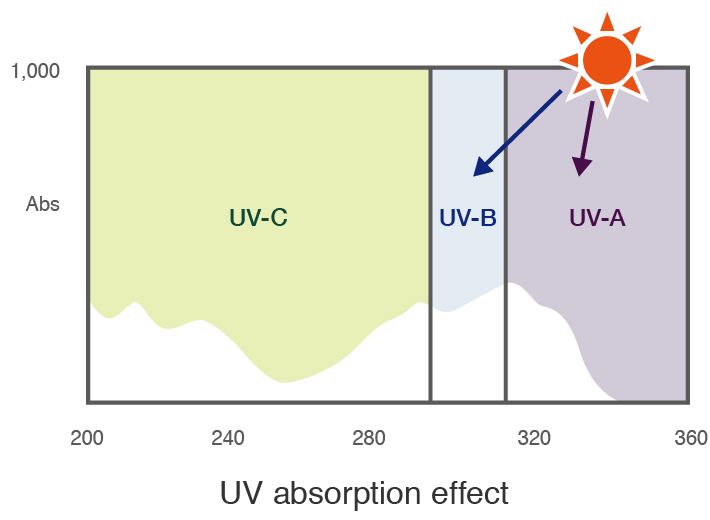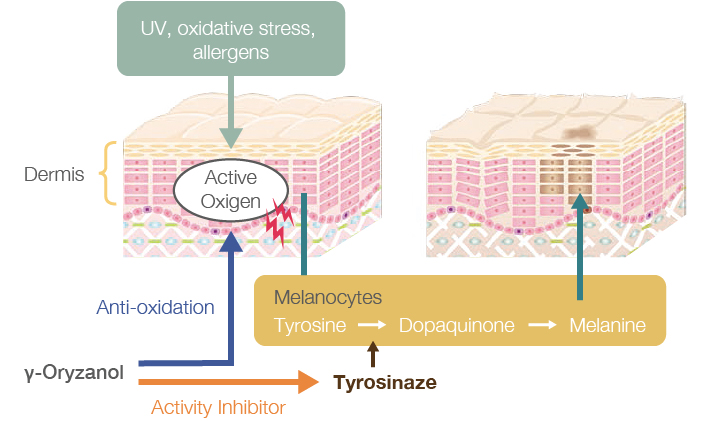 γ-Oryzanol makes rice bran unique. γ-Oryzanol is unique component especially for Rice bran. It has anti-oxidation effect, UV absorption effect and melanin production inhibiting with anti-tyrosines activities as well as prevents for various symptom caused by stress, controls hormone balance and promotes blood circulation.
Comparison of deep fried food cooked with Rice Bran Oil and Rapeseed oil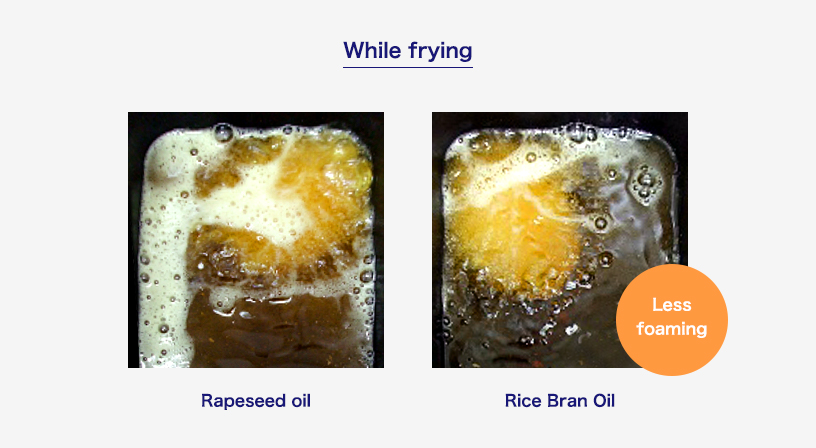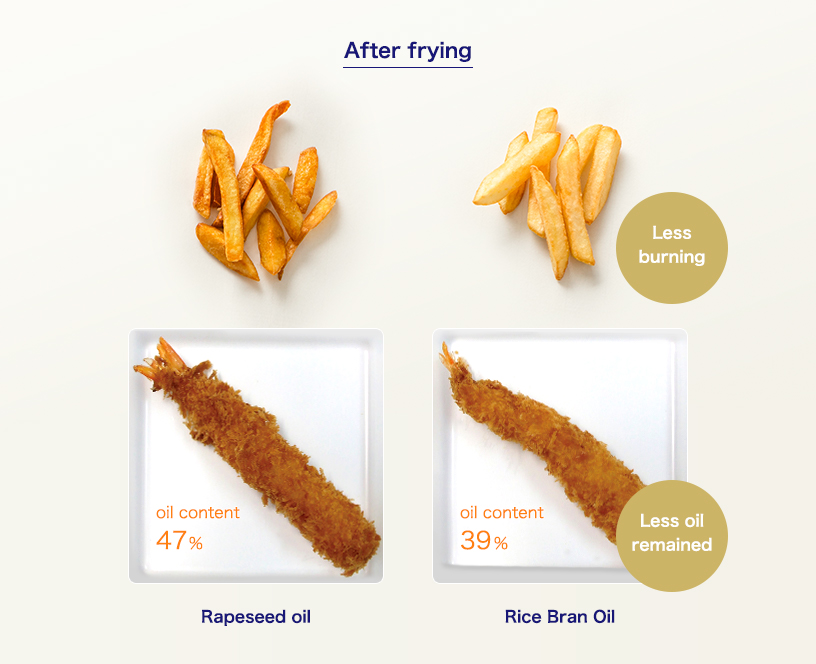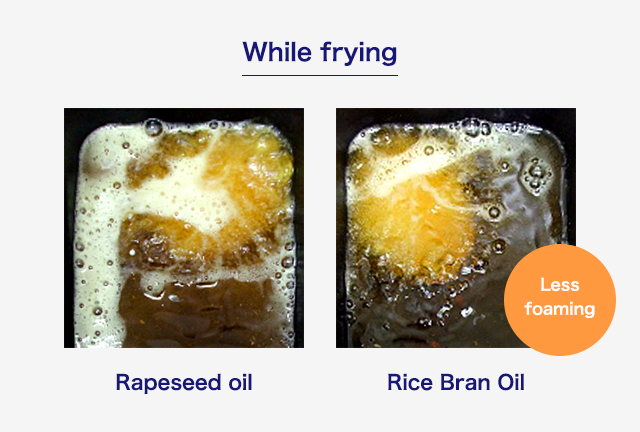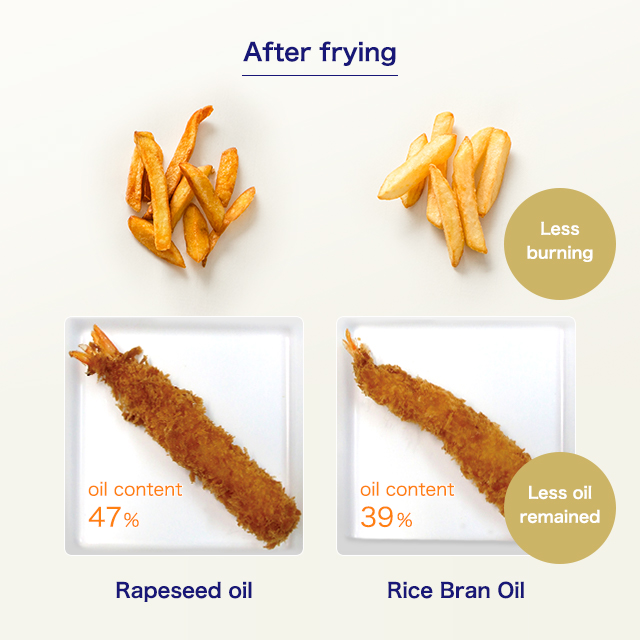 Rice Bran Oil goes really well with any kind of dishes and the natural flavor makes dishes taste more outstanding.
Rice Bran Oil is very smoothe and it doesn't remain to fried food as much as when the food is fried in other kind of oils.
So the fried food taste very light and crispy.
Also Rice Bran Oil is excellent in oxydation stability and doesn't destroy the nutrients by heating.
So you can repeatly use the same oil when you cook.